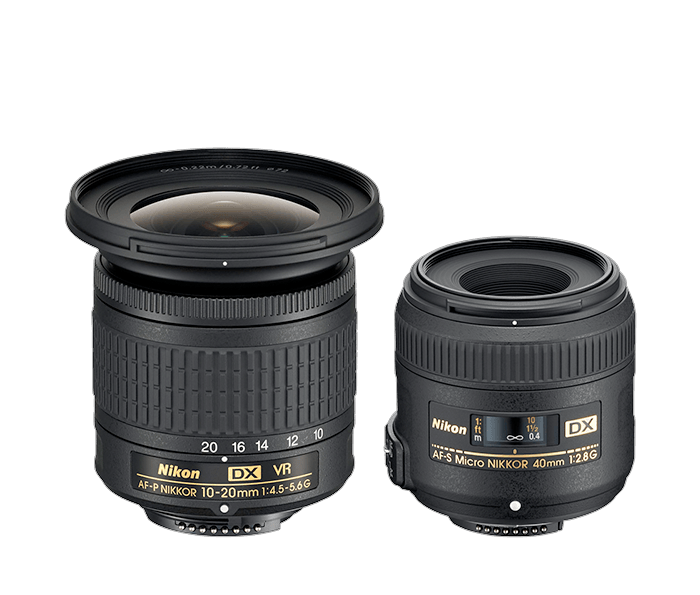 Nikon DX landscape/macro kit 10-20mm, 40mm micro.
Expand your outfit with the DX-format ultra-wide-angle AF-P DX 10-20mm F/4.5-5.6G VR.  The AF-P DX 10-20mm F/4.5-5.6G VR will surprise and delight you with its ability to capture sweeping landscapes and stunning architecture. Created with a compact and portable frame, this lens comes with a suite of innovative NIKKOR technologies, such as the Vibration Reduction system and a quieter autofocus drive for an enhanced performance. Experience true optical brilliance shot after shot with the light and manoeuvrable AF-P DX 10-20mm F/4.5-5.6G VR.
Achieve superior vision
From landscapes to architecture to interiors, the AF-P DX 10-20mm f/4.5-5.6G VR will give you the flexibility to capture the shot you want. With a focal length range of 10-20mm1 you can dramatically increase field of view. Photograph close-ups of your subjects in extraordinary detail with a maximum reproduction ratio of 0.17x and a minimum focus distance of approximately 0.22m.
A step above
Achieve sharper and steadier shots on the move with the AF-P DX 10-20mm       f/4.5-5.6G VR's built-in Vibration Reduction system. Featuring a stepping 
motor 
that reduces noise from within the autofocus drive, the AF-P DX 10-20mm      f/4.5-5.6G VR is perfect for photographing subjects in their natural environment without any disturbances.
Performance you can carry anywhere
Compact and lightweight, the AF-P DX 10-20mm F/4.5-5.6G VR is perfect for your next adventure. Weighing only approximately 230g, the AF-P DX 10-20mm F/4.5-5.6G VR is designed to be portable without compromising on optical performance or image quality.
Capture spectacular details
Capture spectacular macros as well as landscapes, portraits and more with the AF-S DX Micro NIKKOR 40mm f/2.8G. This lens features a 1.0x maximum reproduction ratio, enabling macro photography with a higher level of details from only 16cm away from the subject. Small and light enough to carry anywhere, this lens delivers high resolution and excellent contrast.