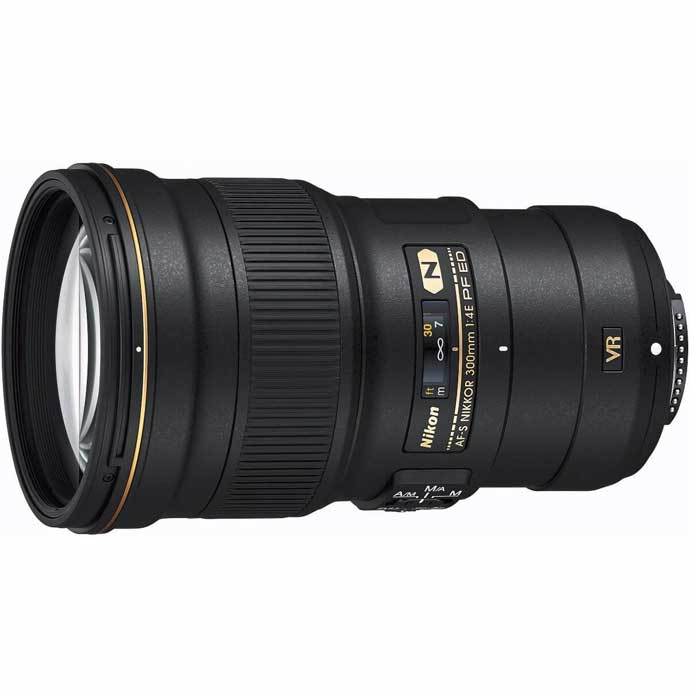 Nikon AF-S 300mm f/4E PF ED VR
The AF-S NIKKOR 300mm f/4E PF ED VR is a cutting-edge lens engineered to draw peak performance from high-resolution full-frame cameras. The Phase Fresnel element nearly eliminates chromatic aberration on its own. When combined with an Extra-low Dispersion (ED) glass element and Nano Crystal Coat (N), it delivers strikingly clear, accurate images. Nikon's Silent Wave Motor (SWM) provides ultra-quiet, ultra-fast autofocusing with seamless manual override (just spin the focusing ring), and a Fluorine coating on the front lens element effectively repels dust, water, grease or dirt, ensuring easy cleaning.
Introducing a thrilling new 300mm f/4 prime lens capable of changing the way pro and serious enthusiasts shoot. At just 147.5mm long and 755g—over 30% shorter and 1.5lbs lighter than its predecessor—the AF-S NIKKOR 300mm f/4E PF ED VR is the world's lightest 300mm full-frame AF lens. (As of January 5, 2015. Statement based on Nikon research.)
The secret to its remarkable size? A Nikon-designed Phase Fresnel (PF) lens element, a first for the NIKKOR DSLR lens lineup. But handling isn't the only advantage; the PF element also performs brilliantly—achieve new levels of sharpness and clarity with virtually no chromatic aberration or ghosting. Whether you shoot fashion, portraits, nature, wildlife, sports, action or today's big stories, the AF-S NIKKOR 300mm f/4E PF ED VR will help you capture stunning views of the decisive moment.