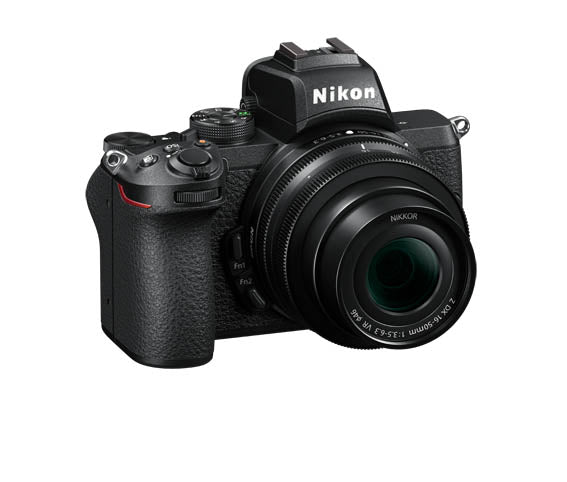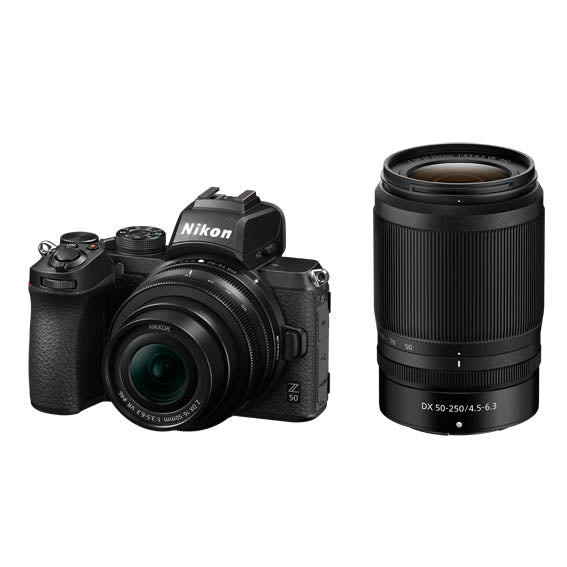 Nikon Z50 Mirrorless Interchangeable Lens Camera
Why settle for capturing images, when you can capture your inspirations?
Introducing a unique mirrorless
camera that can make your vision connect more powerfully with others — the Z 50. Small in size but big in
image quality, the Z 50 unleashes your unique creativity from day one. Combining the unrivaled potential
of the Z mount system with simple, well-thought-out camera operation, it lets you find new joy in making
stunning images just as you envision them — day or night. What's more, you can transfer your photos and
videos immediately to your smart devices via the SnapBridge application, for easy sharing
online. Get ready to capture the world in a way that only you can express with the Z 50.
4K UHD VIDEO WITHOUT ANY CROP
Capture beautiful 16:9 4K UHD/30p video using the whole frame.
Amaze yourself and your audience with the variety of looks available
from NIKKOR Z lenses, from wide angle to telephoto. The Z 50 offers
beautiful output with minimum noise at high ISO, 1080/120p for slow
motion, and smooth, accurate and silent AF for video. You can even
touch to focus using the LCD monitor, for fast transitions between
subjects. Focus peaking is available in both 4K UHD
and 1080p recording, assisting manual focusing with
easier confirmation on the monitor.
COMFORTABLE VIEWING UNDER
BRIGHT SUNLIGHT
When you want to get a clearer view of what you
are shooting under bright sunlight, or simply want to
concentrate on your subject with no distractions, the
easy-to-see EVF of the Z 50 comes in handy.
It offers a sharp and clear image under any conditions,
thanks to its high-resolution organic EL panel combined
with Nikon's superior optical and image-processing
technologies. The EVF also displays the same settings
as the LCD monitor, allowing you to make quick setting
changes without taking your eye away.
ALWAYS READY TO SWITCH
BETWEEN PHOTOS AND VIDEOS
When shooting video, you often want to use different
camera settings than those you need for stills. The Z 50
lets you separately save the most appropriate settings for
each shooting mode and then change smoothly between
them with the flick of a selector.
EXPLORE DIVERSE LOOKS — 20 CREATIVE PICTURE
CONTROLS AND 10 SPECIAL EFFECTS
Playing with different looks and colors can add different nuances to your images. You
can see these by applying different Creative Picture Controls, confirming the appearance
you get in real time via the monitor or EVF. It helps you create your ideal image, and the
camera even lets you adjust the level within each Creative Picture Control. Meanwhile,
Special Effects offer you a way to get more playful and experimental with your images.
All of these options are at your fingertips, and can be applied for both photos and videos.
Creative Picture Controls
Dream / Morning / Pop / Sunday / Somber / Dramatic / Silence / Bleached / Melancholic /
Pure / Denim / Toy / Sepia / Blue / Red / Pink / Charcoal / Graphite / Binary / Carbon
Picture Controls
Auto / Standard / Neutral / Vivid / Monochrome / Portrait / Landscape / Flat
Special Effects
Night Vision / Super Vivid / Pop / Photo Illustration*1 / Toy Camera Effect / Miniature Effect*2 /
Selective Color / Silhouette / High Key / Low Key
*1 Movies shot in this mode play back like a slide show made up of a series of stills.
*2 Movies shot in this mode play back at high speed.
Note: Special Effects are not available with movies recorded in 1920 × 1080/120p, 1920 × 1080/100p, and 1920 × 1080 slowmotion.
QUICK IMAGE TRANSFER
TO YOUR SMART DEVICES — SNAPBRIDGE
Share the excitement of what you see and create to your online community immediately, wherever you
shoot. By installing the SnapBridge*1 app on your smart device*2, you can easily transfer stills (JPEG and
RAW) and movies via Bluetooth® and Wi-Fi® from the camera, and upload them straight to social media.
You can also use your smart device to remotely control shutter release and start/stop movie recording.
*1 Ver. 2.6. *2 Compatible with iPhone®, iPad®, iPod touch® or smart devices running on the Android™ operating system. Available free from
Apple App Store® and Google Play™. Please check Nikon's website for further information.