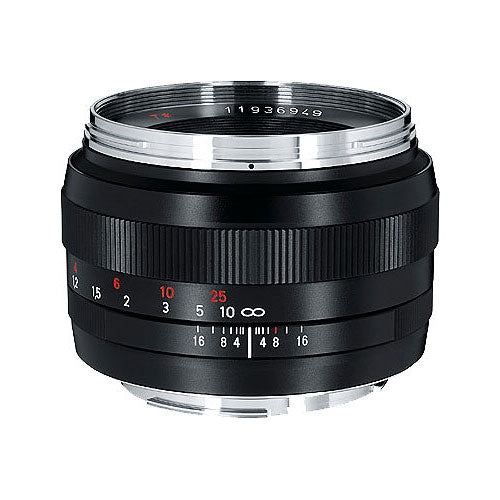 Carl Zeiss Planar T* 50mm f/1.4 ZE Lens – Canon Mount
This bright and compact standard lens has a precise manual focusing mechanism and large rotation angle for precise control. The Planar T* 1,4/50 is designed for medium and longer distances and provides high-performance wide open, which only improves as the lens is stopped down.

The lens construction controls flare and ghosting artifacts, resulting in a brilliant image with excellent contrast and natural color rendition. The Planar T* 1,4/50 ZE is designed for use with full-frame SLR and DSLR cameras. Combined with a DSLR with a 1.5 crop factor, the lens becomes a compact, lightweight 75 mm portrait lens.

Note: This is a manual focus lens. We also recommend, if your camera supports it, the use of an interchangeable focusing screen designed for manual focus. (EOS 1D series cameras' standard focusing screens are already suitable for manual focus). Please click here for camera compatibility.
50mm Standard Lens with Manual Focus
Supports Canon Full Frame & APS-C DSLR Both
Very Fast f/1.4 Aperture
Optics designed for Sharp Visuals
Precise Focusing Ring
Zeiss T* Anti-Reflective Coating
Metal Lens Hood Included