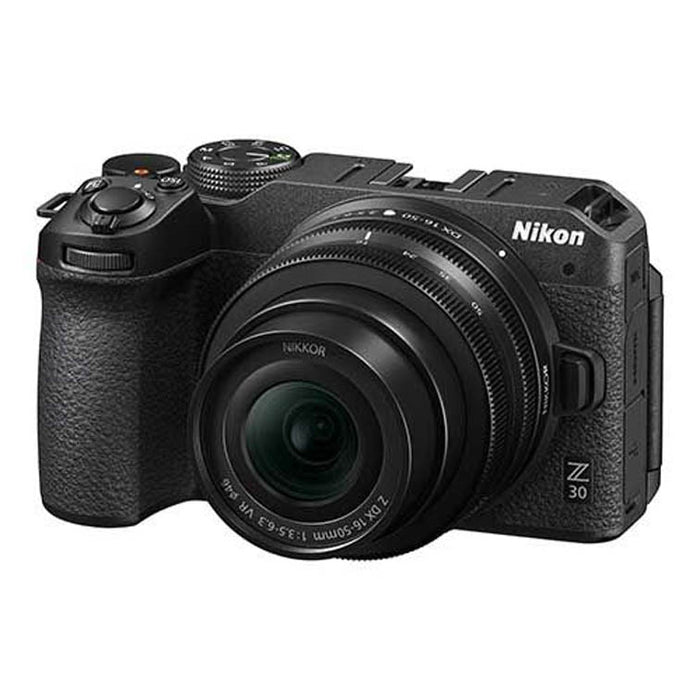 Introducing the Z 30, a camera made for self-expression and storytelling.

Compact and easily portable for the backpack or handbag, the unob-
trusive APS-C size/DX-format mirrorless camera in the Z Series range

captures unique perspectives of the world in lifelike colours and clarity.
Create desired videos and stills with a camera that features a design
of simplicity – optimal positioning of buttons and easy user interface,
dedicated focus modes, long video recording time, and beautiful outputs
even in low light environments.

• Entry Level Z series Mirrorless
• Red Confirmation Record Light
• 3" Vari-Angle Touch LCD Screen
• Face and Eye Detection AF in Stills/Video
• 4K UHD Video Recording with No Crop
• 20.9mp CMOS APS-C Sensor
• Up to 11 fps Continuous Shooting
• In-built Stereo Mic and External Mic Input
The Z 30 is a camera that is dedicated to video.
With up to 125 mins of record time and Eye
Detection AF and Full-time AF (AF-F), the camera
offers unmatched consistency for video recording.

The red recording light provides instant confirma-
tion of video recording when shooting a vlog.

AF speed and sensitivity can also be
independently adjusted to match the style of
your video.
The inbuilt stereo microphone offers crisp audio,
otherwise an external microphone can be used
to further improve audio.

A responsive camera for those who enjoy
vlogging on the go or documenting moments
while traveling, the Z 30 sports a 3" vari-angle
touch-sensitive LCD screen to give users the
flexibility to get creative with their shooting.
From shooting low or high angles, turning the
screen around for the selfies or vlogging, the
touch functionality of the screen can be used in
stills or video shooting, playback, menu
navigation, just like a smartphone.

The Z 30 features 20.9mp CMOS APS-C sensor.

Designed to offer the perfect balance between res-
olution and low light performance. Capture clarity

and textures even in low-light settings, be it night
market excursions or evening cookouts, with an ISO
sensitivity of up to 25600 for videos and up to 51200
for still images, adding personality and breathing
life into every shot taken.
Capturing up to 11 fps with autofocus and
exposure calculations, the Z 30 will be ready for all
your adventures.

The Z 30 is the smallest and lightest Z series to
date with the body weighing in at approx 405g.
The ergonomic hand grip provides comfortable
and stable shooting even when shooting in
vertical format.
The Z 30 is also exceptionally easy to use with
full auto mode with exposure compensation to
fine tine your resulting content.
Custom buttons can also be assigned to
frequently used settings, and a photo/video
selector that allows for fast and easy switching.

The Z 30 is able to charge or power the camera
via the USB-C port, extending shooting times.
The Z 30 is also compatible with Nikon's USB
Webcam Utility, which allows you to use your Z
30 as a high quality webcam for on line meetings
or streaming.
The Z 30 also features Nikon Snapbridge
connectivity, which allows you to pair your
camera to your smart device via Bluetooth or
Wi-Fi for easy image transfer, remote shooting
and more.

Taking advantage of the large Z mount, the Z 30
features the same benefits as all other Z series
models, by gathering substantially more light
which results in sharper images across the entire
frame, less distortion and vignetting, and overall
higher image quality.
With the introduction of the Z 30 to the lineup,
the Z series now has a total of 9 cameras and 30
lenses available in the ecosystem virtually every
application regardless of your skill level.