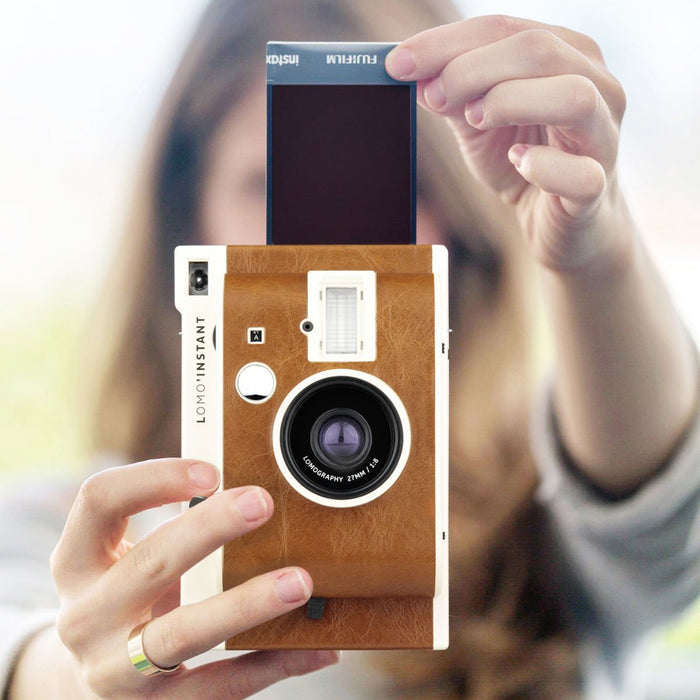 Lomography Lomo'Instant Camera & 3 Lenses (Sanremo)
Discover the flexibility of the Lomo'Instant Sanremo. Shoot enchanting photos with this retro-chic camera and share them with your friends in just a snap.
The Lomo'Instant Sanremo is the perfectly sized instant camera to take wherever you go! The camera has a classy, retro brown design and it's the most creative way to shoot marvelous photos which you can share anywhere and with everyone in an instant.
3 Shooting Modes To Cover Every Kind Of Instant: The Lomo'Instant has an auto flash shooting mode so you can easily shoot fantastic instant photos with flash in the touch of a button. You can also switch to the two manual shooting modes to open up all kinds of experimental shooting possibilities.
Flash-On Auto Mode: Using this mode, a sensor on the flash detects the brightness, and the light meter automatically gives off the right amount of flash. The default aperture value is f/16 and the exposure compensation dial can be adjusted. It's perfect to use anywhere when you're on the go.
Flash-On Manual Mode: This mode is great for shooting indoors. The flash is on and you can switch between N for normal daytime shots and B shutter for long exposures.
Flash-Off Manual Mode: This mode is great for long exposures at night. The flash is switched off and you can switch between N for normal daytime shots and B shutter for long exposures at night.
An Ultra-Advanced Lens System: The camera has a built-in wide-angle lens and is compatible with multiple lens attachments that can be screwed onto the Lomo'Instant for tons of creative and experimental photography options.
Wide-Angle Lens (built-in): This 27mm equivalent wide-angle captures more than your eyes can see and allows you to shoot up-close-and-personal shots with its 0.4m closest focusing distance.
Fisheye Lens Attachment: The Fisheye lens attachment lets you take 170° snapshots. Get hooked, lined and shamelessly sinkered for wonderful circular instants with the 170° Fisheye Lens Attachment.
Portrait Lens Attachment: This versatile 35mm equivalent lens attachment is suitable for shooting both indoors and out. It's great for portraits as well as street photography and landscape shots.
Close-up Lens: This lens allows a 10-15cm closest focusing distance for striking close-ups.
Shoot Long Exposures: The Lomo'Instant's B setting lets you create light-streaked photos by holding the shutter open for as long as you like. Try it out for night-time or light painting photo shoots.
Shoot Unlimited Multiple Exposures: The Lomo'Instant is the only modern Instant camera which allows you to shoot unlimited multiple exposure instants. This means you can combine numerous shots in one frame for show-stopping effects!
Color Gels: Choose from blue, red, purple and yellow! By adding the filters over your flash, you can play around with cool and warm tones, and give an artistic flair to your instants!
The Largest Aperture Setting in the Instant Photography World: With its maximum aperture of f/8, the Lomo'Instant Camera has the largest aperture setting currently in the instant photography world. Shooting with f/8, you can get brighter shots. Alternatively, use a smaller aperture such as f/22 for getting every detail in focus.
The Perfect Instant Photo Format: The camera creates credit card-sized snapshots using high quality and widely available Fuji Instax Mini film, renowned for its bright colors and clear images.
Mirror: The Lomo'Instant Camera has a tiny mirror to the left of the lens. Combined with the wide-angle lens, the Lomo'Instant mirror lets you take picture-perfect selfies.