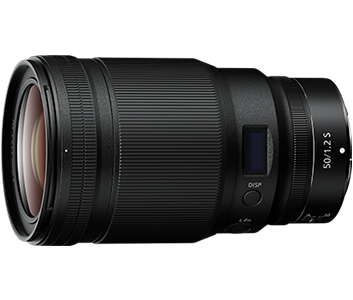 Pre-order now
Revel in the finer details with the NIKKOR Z 50mm f/1.2 S. As the first
of its kind to be equipped with two stepping motors (STMs), and delivering the highest level of optical performance of the S-Line, expect nothing short of excellence. Built around the revolutionary Z mount system, extraordinary full-scale imaging expression comes easy, so you can enjoy utmost clarity and beautiful f/1.2 bokeh for portraiture. Draw out raw emotion with the same quick and precise autofocus (AF) performance in both stills and videos. Its incredible speed and accuracy is perfect for fashion, wedding and street photography — when life's fleeting moments need to be captured in full flight.
THE BEST OF BOKEH
With a wide f/1.2 aperture, achieve beautiful circular bokeh that's easy on the eyes with minimal colour fringing around the edges. Let your primary subject stand out clearly with the lens' shallow depth of field for stunning three-dimensional effect. When you want to change it up, enjoy the same extraordinary expression and performance in videos.
FORM FOLLOWS FUNCTION
Anticipate your next move at every turn. All it takes is a simple click to assign a function through the lens function (L-Fn) button, and a swift glance confirms the lens information on the information panel without having to look through the camera's viewfinder. Complete with an electro-magnetic aperture mechanism, you can now be in precise aperture control, even with continuous shooting.
No matter the weather, focus on your craft and carry on with your creative pursuits from the lens' superior dust- and drip- resistant performance2, and rubber sealing around the lens mount. All to effectively repel dust and water droplets, so you can clean your lens with ease.