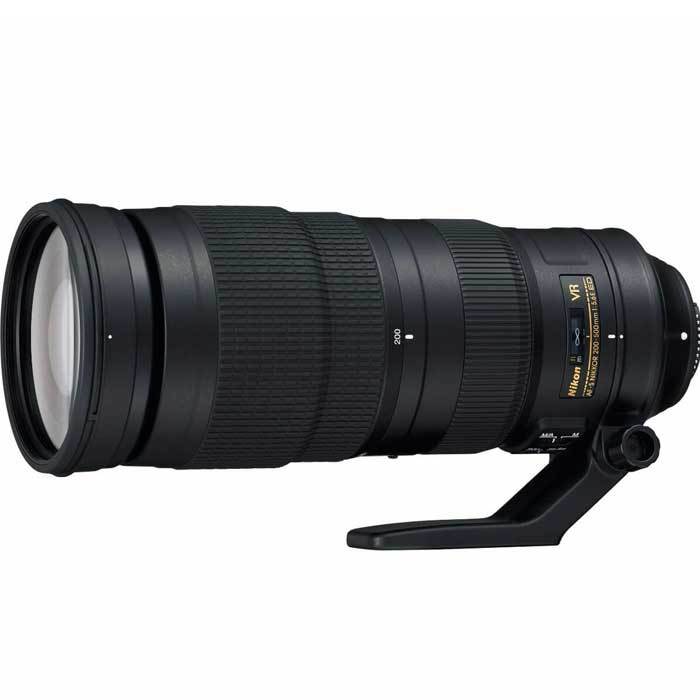 Nikon AF-S 200-500mm f/5.6E ED VR
Lightweight, compact super telephoto zoom
Whether your subject is far in the distance or close, fast or slow, you can land the shot. On FX-format cameras, 500mm brings distant birds, wildlife, athletes, performers, landmarks and more into tight focus. DX-format cameras add an additional 1.5x zoom effect for an angle of view equivalent to a whopping 750mm! And despite that extreme power, you can also focus on subjects as close as 7.2 feet away for detail rich close-ups.
4.5 stops of Vibration Reduction
At super telephoto distances, the smallest camera movements can cause image blur. Vibration Reduction image stabilization counteracts camera shake up to ~4.5 stops** for sharp photos and steady videos. You also can shoot at slower shutter speeds in low light—great for those magic moments at dawn and dusk. Sports Mode is optimized for camera pans and other movements common when shooting fast action.
Advanced Nikon lens technology
Extra-low Dispersion (ED) glass cuts through the glare of bright sunlight. Silent Wave Motor (SWM) powers ultra-fast, near-silent autofocusing with seamless manual override. The Electromagnetic diaphragm (E) operates in sync with the fastest shutter speeds and frame rates, even when using an optional teleconverter. Always bring home views that amaze.
The lens incorporates an electromagnetic diaphragm mechanism. The following cameras are compatible with this lens:
D4 series, D3 series, Df, D810, D810A, D800 series, D750, D700, D610, D600, D300 series, D7200, D7100, D7000, D5500, D5300, D5200, D5100, D5000, D3300, D3200, D3100, Nikon 1 J1, J2, J3, J4 with FT-1, Nikon 1 V1, V2, V3 with FT-1, Nikon 1 S1, S2 with FT-1
*Compatible with TC-14E series teleconverters (AF is only available when used with DSLR cameras that offer f/8 support. These include: D4, D4S, Df, D600, D610, D750, D800, D800E, D810, D7100, D7200). Compatible with TC-17E and TC-20E series teleconverters (AF not possible).