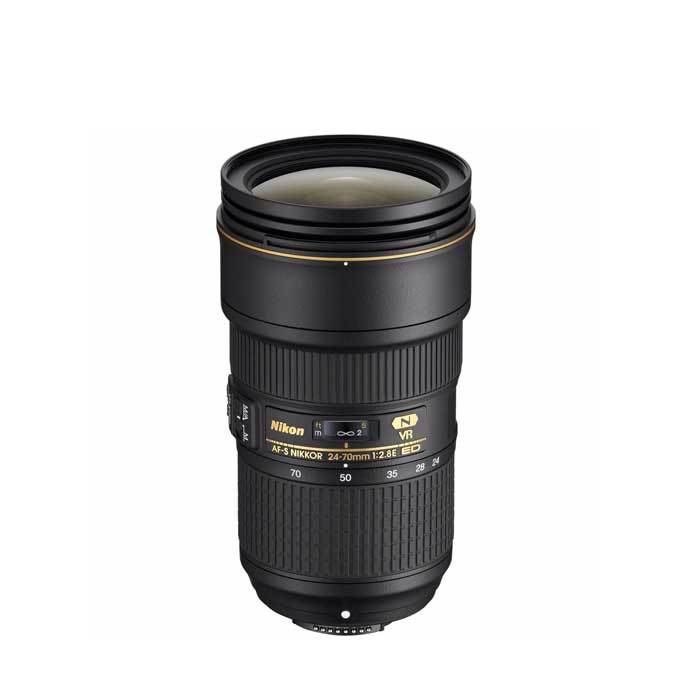 Nikon AF-S 24-70mm f2.8E ED VR
Fast f/2.8 constant aperture with an electromagnetic diaphragm Sensational image quality and sharpness with virtually no distortion 4 stops of Vibration Reduction for handheld and low-light shooting Nonstick glass makes it easier to wipe off water, dirt and smudges Evolution of Nikon's legendary 24-70mm workhorse
Meet your new must-have lens, the evolution of a legendary workhorse. The AF-S NIKKOR 24-70mm f/2.8E ED VR improves upon nearly every aspect of its acclaimed predecessor—sharpness, speed, consistency, control and durability plus Vibration Reduction image stabilization technology—and the results are stunning. Pair it with a Nikon full-frame high-resolution DSLR, and achieve new levels of sharpness and clarity. From studio work to field assignments, environmental to events, stills to HD video, when chasing the decisive moment, you'll always know which lens to grab.
Optical precision to the edge of the frame
A first for NIKKOR lenses, a new Aspherical Extra-Low Dispersion (ASP/ED) element is paired with traditional AS, ED and HRI elements for a thrilling new level of optical precision. Photos and videos take on a beautiful balance of sharpness and soft blur effects, virtually free of flare, ghosting, coma, chromatic or spherical aberration, even at the far edges of the frame. For those who thrive on image quality, the AF-S NIKKOR 24-70mm f/2.8E ED VR delivers.
Versatility, speed and durability
24-70mm is the sweet spot of the zoom range for many photographers, great for everything from landscapes and studio work to weddings and press events. The f/2.8 constant aperture allows for faster shutter speeds to freeze fast action, renders a beautiful bokeh blur and performs brilliantly in low light. Add an electromagnetic diaphragm for fast auto-exposure control plus the protection of Nikon's fluorine coat on the front and rear glass, and you've got the ultimate workhorse for nearly any situation.
v
4.0 stops of Vibration Reduction*
To complete the evolution, the AF-S NIKKOR 24-70mm f/2.8E ED VR also includes Nikon's Vibration Reduction image stabilization technology. It reduces camera shake and vibration up to ~4.0 stops*. Capture sharp, steady handheld stills and HD videos, and shoot at slower shutter speeds in low-light situations without sacrificing sharpness. Versatility, enhanced.