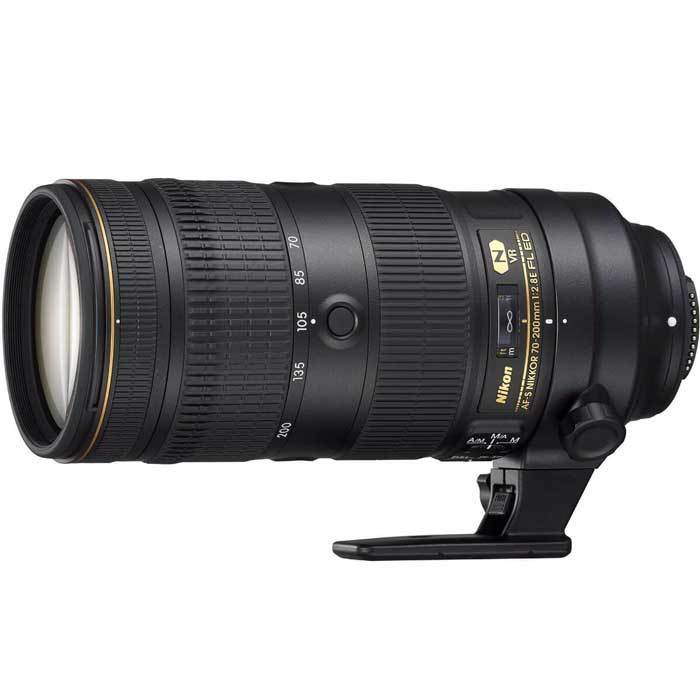 Nikon AF-S NIKKOR 70-200mm f/2.8E FL ED VR
When it comes to unrivalled optical excellence and versatility, the AF-S NIKKOR 70-200mm f/2.8E FL ED VR knows no bounds. Its lightweight design stems from advanced NIKKOR optics housed in magnesium-alloy, allowing for agile shooting in diverse situations from sports, wildlife, fashion, portraits to everyday subjects. Geared for creative control, it boasts a groundbreaking Vibration Reduction system providing an effect equivalent to a shutter speed 4.0 stops faster in NORMAL mode.
With a maximum aperture of f/2.8 throughout its entire focal range, improved autofocus and enhanced tracking performance, this extraordinary fast telephoto zoom lens is the definitive choice for professionals and enthusiasts alike.
FAST F/2.8 TELEPHOTO ZOOM WITH REDUCED WEIGHT ENABLES HIGHLY AGILE SHOOTING IN DIVERSE SITUATIONS
The AF-S NIKKOR 70-200mm f/2.8E FL ED VR, an FX-format compatible, telephoto zoom lens with a fixed maximum aperture of f/2.8 throughout the entire zoom range, realizes a lightweight body for a large-aperture lens featuring professional specifications. The employment of one fluorite and one HRI lens elements as well as magnesium-alloy parts makes the lens lighter than the current AF-S NIKKOR 70-200mm f/2.8G ED VR II by approx. 110 g. This lighter weight can assist photographers by reducing their fatigue, allowing them to maintain their concentration even in tense situations on location at professional shoots.
The fluorite lens element featuring a light specific gravity employed for the front side of the lens causes the lens' center of gravity to shift to the camera side, achieving stable, well-balanced holding. The HRI lens element is another factor in attaining both the lightweight body and high optical performance. In addition, the rugged, durable and precisely crafted magnesium alloy employed for the lens barrel components also greatly contributes to a considerable weight reduction from the current model.
WEATHER-RESISTANT PERFORMANCE SUPPORTS SHOOTING EVEN IN SEVERE ENVIRONMENTS
The lens structure provides weather-resistant performance with anti-dust and waterdrop-resistant capabilities. Movable parts and other sections are sealed to protect the inside of the lens against dust and water droplets. In addition, Nikon's original fluorine coat applied to the extreme front surface, providing high antifouling performance and peel-resistant properties, contributes to more reliable shooting with easier maintenance. These elements allow photographers to continue shooting even under unpredictable conditions such as unforeseen dust or sudden light rain. Fluorine coat is also effective for capturing clearer images due to its high antireflective effect. The weather-resistant performance combined with the reduced weight makes this lens highly agile equipment that supports shooting in diverse environments.
ENHANCED OPTICAL PERFORMANCE WITH A NEWLY DEVELOPED OPTICAL SYSTEM AND THE ADOPTION OF FLUORITE, ED GLASS, HRI LENS AND NANO CRYSTAL COAT
The AF-S NIKKOR 70-200mm f/2.8E FL ED VR provides high resolution images across the entire frame almost throughout the zoom range. The fluorite lens element featuring a high transmission rate and effective anomalous dispersion properties achieves outstanding chromatic aberration correction performance within the visible light spectrum, resulting in excellent image rendering. Six ED glass elements also reduce chromatic aberration that causes color fringing for stunning sharpness and contrast, while a High Refractive Index (HRI) lens element offering superb aberration-correction effects with a single element corrects curvature of field and spherical aberration simultaneously.
Furthermore, Nano Crystal Coat, an antireflective coating that employs an extra-low refractive index coating featuring ultra-fine, nano-sized crystal particles, effectively minimizes ghost and flare effects even for difficult scenes such as when light enters the lens diagonally, producing clearer images. In addition to the high optical performance achieved through these factors, this lens enables exquisite image expression emphasizing the main subject by utilizing a shallow depth of field and the large background blur that can be attained with a fast zoom lens featuring f/2.8 for up to 200 mm.