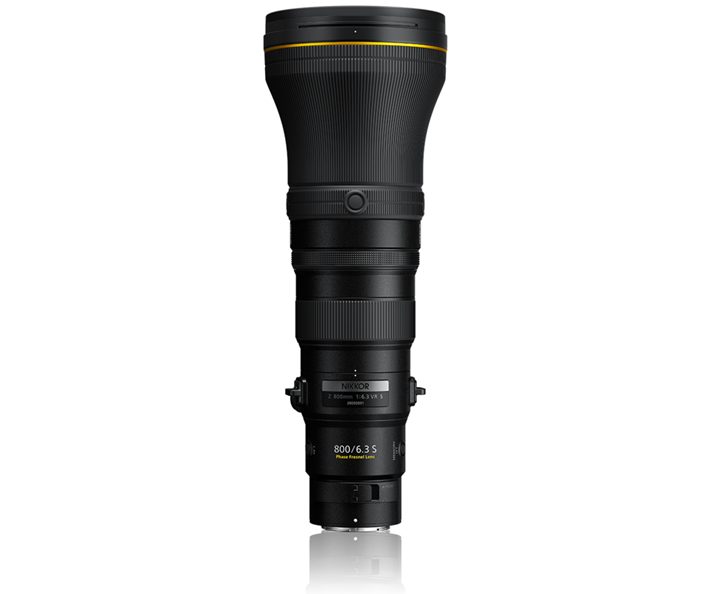 Nikon NIKKOR Z 800mm f/6.3 VR S PRE ORDER NOW

With its super-telephoto focal length, the NIKKOR Z 800mm f/6.3 VR S offers versatility in dynamic image expression to aim and photograph distant subjects from sports to wildlife to vehicles, even birds and aircrafts soaring high in the sky. Expand your shooting range even further, as the current focal length is extendable to 1120mm and 1600mm with the Z TELECONVERTER TC-1.4x and Z TELECONVERTER TC-2.0x respectively, while maintaining outstanding resolution, to photograph subjects at an even greater distance to present the subject in frame, as intended, without having to crop image to 'zoom in'. Even without a teleconverter, the focal length can be extended up to 1200mm-equivalant by setting the camera's image area to [DX (24x16)] format.
Experience accurate autofocus (AF) performance that is unique to the Z mount system, as the lens employs a near-silent stepping motor (STM) which ensures excellent quietness and response speed. The fast, precise, and quiet AF makes the lens perfect for photographing wildlife whereby silence and precision are paramount. The powerful in-lens Vibration Reduction (VR) of up to 5.0-stops provides users with more stability when shooting, achieving high-blur compensation to counter camera shake at super-telephoto focal length of 800 mm or during low light conditions where a slower shutter speed is required to capture sharp images. When combined with the Nikon Z 9, the effect of 5.5 stops is achieved with Synchro VR activation.
With the PF lens element in the NIKKOR Z 800mm f/6.3 VR S, not only does it reduce the overall weight, but also, together with the Nano Crystal Coat, effectively suppresses overall axial chromatic aberration and reduces the ghost and flare effect, allowing users to attain superior resolution comparable to that of the AF-S NIKKOR 800mm f/5.6E FL ED VR.

Weighing 48% less than its F mount counterpart at approximately 2385g, the lens allows for increased mobility when shooting, for users to do more with less gear. With the lens' centre of gravity positioned close to the photographer, users are provided with better stability and comfortability when shooting handheld and smoother panning when shooting with a tripod or monopod.