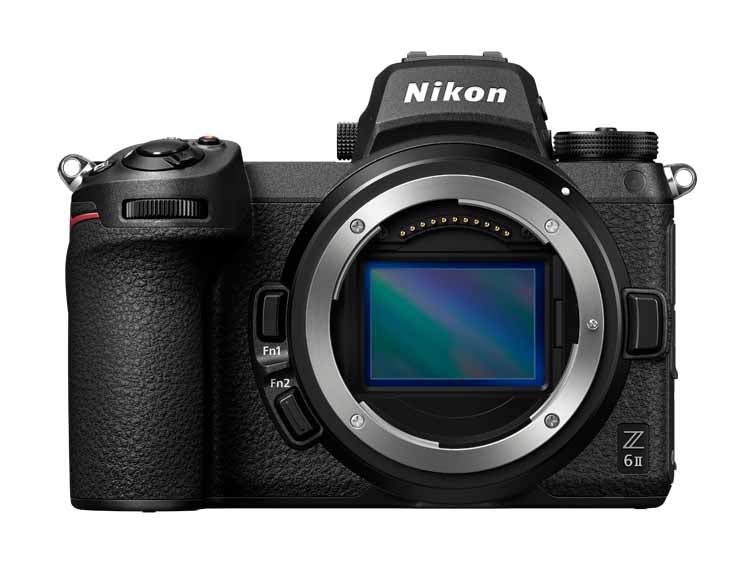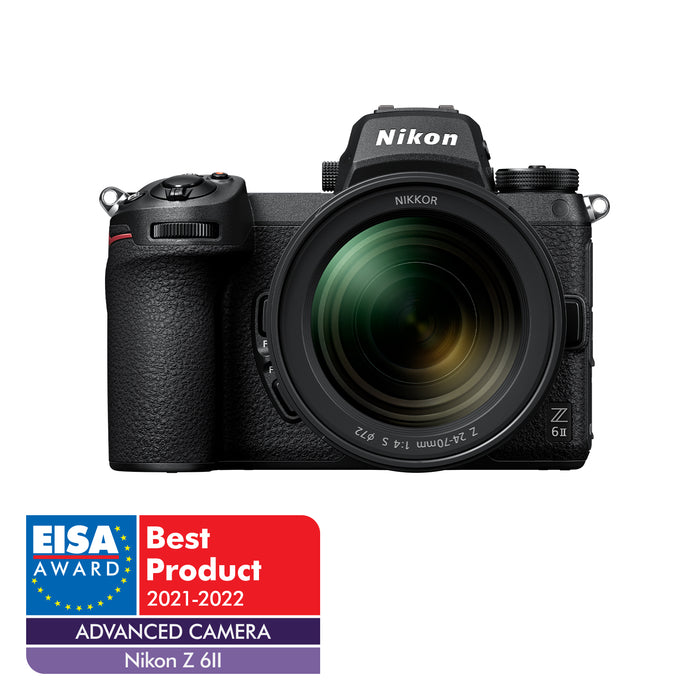 Introducing Z 6II.
More of everything you want in a hybrid stills and video camera.

Z 6II builds upon the exceptional versatility of the original Z 6, providing more video options, greater low light performance, higher speeds and workflow enhancements
Z 6II Overview

Enter the next chapter of the Z mount system for the ultimate imaging experience. Whether you're shooting videos or stills, there are no missed moments with this fast and reliable hybrid mirrorless camera that churns out outputs to complement your imaginative storytelling. Double your creative power with the Z 6II's dual EXPEED 6 image-processing engines and reliably store them via the dual card slots that support three card-formats. With a diversified NIKKOR Z lens range to match any situation you encounter, ignite your creative passion and show off just what you can do with the Z 6II.
YOUR STORY. YOUR CHOICE OF VIDEO.
Tell your story, and tell it spectacularly. When your craft calls for capturing swift movements, let your creativity take centre stage of every shoot with more flexibility right at your fingertips. Make the most of full-pixel-readout, full-frame 4K Ultra High Definition (UHD) or Full HD. Capture art in motion with a wider dynamic range through 10-bit N-Log1 or HDR (HLG)1 movie outputs, or even better, the optional 12-bit raw video1 output. For those quick turnarounds, edit on the go with Flat Picture Control or keep it simple with 8-bit in-camera recording. Now, you'll always be ready to share your stories with the world!
Spur on your passion and unleash your creativity with the wide range of third-party accessories that are compatible with this camera.

TWO ENGINES, INFINITE POWER
Dual engines, dual power. You won't have to wait for your camera to keep up with you, thanks to the power of two EXPEED 6 image-processing engines that upgrades your processing performance. All the best moments are now well within your grasp, as you're always supported by the Z 6II's greater buffer capacity of up to 124 shots2. Go with the flow and capture every spontaneous moment with 14fps3 in continuous shooting.

LIGHTS OFF. FOCUS ON.
Approach every indoor shoot, night shoot or moody weather condition with confidence with an increased autofocus (AF) performance that offers superb focusing with a range as low as -4.5EV4.
For those fast-paced scenes, the Z 6II allows you to keep your focus position, even if you're switching off your camera frequently. That means you won't have to start from square-one every time you want to capture the winning shot, which makes it perfect for event and performance photography.
KEEP AN EYE ON IT
Add new meaning to 'eye-catching visuals' with the Z 6II. Achieve accurate eye or face detection for your subjects with this camera's Eye-Detection AF and Animal-Detection AF, and lock in focus effortlessly, even in videos. Up your game and increase your chances of getting a great shot under any scenario. Expand your scope with the wide-area AF (L), which offers more precision and control by giving you the option to detect focus from a selected portion of the frame.
LONGER SHOOTS? NO PROBLEM.
Faster in every way, the Z 6II captures each moment reliably. Store your stills and videos safely with dual card slots and experience quick read and write speeds with the support of the dual image-processing engines. The fast and reliable CFexpress (Type B) or XQD cards can be used in addition to the SD (UHS-II) card, allowing for smooth and easy transfer of large amounts of data.
PLUG INTO POWER
Three words: USB power delivery. The efficient alternative to always staying fully charged is here, and it fuels the Z 6II for long hours of outdoor shooting. Alternatively, the new, optional MB-N11 battery pack gives you added levels of stability and operability, and supports vertical shooting for more flexibility. You'll never need to interrupt the action, as the battery pack now allows for the handy hot swap, where you can change up your batteries even while shooting.

NO MATTER THE WEATHER
Set off for any kind of shoot with the Z 6II. Whether it's rainy season or cold winters, this camera is designed to combat harsh weather scenarios with its high-quality robust body and impressive dust- and drip-resistant performance. Heightened operability allows you to manually focus with the reverse rotation direction of the focus ring.

MIX AND MATCH
If you can think of it, there's a lens for it. Unlock a wider range of expression in both images and videos, and capture your story beautifully with the power of the Z mount. No matter what you're looking for, whether it's beautiful bokeh and edge-to-edge sharpness, or quiet operation when you want to remain unnoticed, the diversified NIKKOR Z range will always impress.
SIMPLY SEAMLESS
SnapBridge Version 2.7 takes on a whole new level with the Z 6II. The new version of the app allows you to easily keep your Z 6II up to date by downloading firmware updates through SnapBridge, from your phone and right into your camera. Hassle-free and efficient, you can now spend less time updating and more time shooting.

Explore, shoot and share your passion.
1An external recorder that supports these outputs from a Nikon camera is required.
2With 12-bit Lossless compressed RAW (L) with a CFexpress (Type B) card in use.
3In high-speed continuous shooting (extended) with 12-bit lossless compressed RAW, using single-point AF. Approx. 12 fps when using silent photography or AF-C with AF area modes other than single-point AF.
4Figures are for ISO 100 and f/2.0.